About Fox Kids Dentistry – Pediatric Dentistry Serving Downtown Portland, OR
At Fox Kids Dentistry & Orthodontics, we strive to make an ordinary dental visit into an extraordinary experience that is hard to find anywhere else. We believe in treating our patients and their families with compassion and quality care.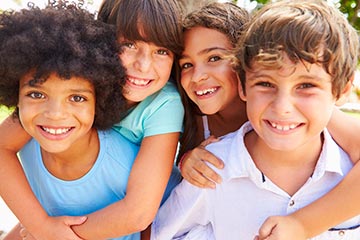 Our doctors stay up to date on the latest technologies in dentistry for children to ensure that our patients always receive the cutting edge in treatment. We believe in investing time and energy into implementing and utilizing advances in kids dental care to deliver the best overall experience for each patient.
We are a combined Pediatric Dental and Orthodontic practice in the heart of Portland. We strive to make it convenient for our patients and their families to get more comprehensive, uninterrupted, total dental care under the continuous evaluation from both our Pediatric Dentist and Orthodontist. What this means for you is no more driving all over town to different offices. Welcome to the world of one-stop-shopping for your kids' dental visits, where you can get your teeth cleaned and braces adjusted all in one visit! Our doctors can more easily work together to coordinate care for your child, and that means more free time for you.
Meet the Doctors at Fox Kids Dentistry & Orthodontics

When you need a pediatric dentist in Portland who knows how to care for your child's smile while making them feel at ease, you want to see Dr. Dana Fox. She's dedicated to getting all kids excited about dental care and seeing the benefits of good oral health. Dr. Dana believes every child deserves to have a smile they love, and with a certification from the American Board of Pediatric Dentistry, she is ready to help them get there!
If your child requires orthodontic care, you know how important it is to find the right provider. For anything from braces to advanced correction to Invisalign treatment, Dr. Paul Fox is the Portland orthodontist for your whole family. As a board-certified orthodontist, he will provide your child with the treatment they need. Dr. Paul takes pride in delivering high-quality care to his patients and their families because he knows that there are no compromises when it comes to your child's smile.
Your child's oral health requires more than general dentistry. Our experienced team has undergone specialized training in pediatric dentistry and orthodontics to ensure your child's smile is healthy, strong and perfectly aligned.
Why Choose Fox Kids Dentistry & Orthodontics
At Fox Kids Dentistry & Orthodontics in Portland, we know quality dental care for children needs to make them feel comfortable and give you confidence in their care. That's why we make it easier for parents to be involved in their child's dental treatment journey. In our treatment areas, we provide parent viewing stations so you can stay with your child through every step of the process.
We offer a wide range of dental and orthodontic services to meet your child's immediate and long-term needs. With our advanced dental technologies that streamline the patient experience, children of all ages can receive a treatment plan tailored specifically to their oral health goals.

Our warm, friendly team will do everything possible to make your experience with us a good one. At Fox Kids Dentistry & Orthodontics, our goal is for every one of our patients to leave with a smile on their face — and we work hard every day to make that happen!
Visit Our Location
Schedule your child's dental care at Fox Kids Dentistry & Orthodontics, located in downtown Portland on floor eight of the Portland Medical Clinic Building. We prioritize your child's well-being and we know that your time is precious, so we offer ample free parking to help you access our services with ease.
Schedule Your Appointment
Does your child need a dental checkup or orthodontic evaluation? Call us at 503-223-5039 to schedule your visit! Or, contact us online!