Children's Dental Exams in Portland, Oregon
As a pediatric dentist serving downtown Portland, Oregon, Fox Kids Dentistry & Orthodontics strives to give kids in Portland a comfortable space to receive a comprehensive dental exam and develop smart oral hygiene practices for the future. We dedicate ourselves to each of our patients.
When you choose to be seen by our stellar pediatric dental team, we will keep your child's teeth and gums happy and healthy.
What Does Our Pediatric Dental Exam Include?
When we complete a pediatric dental screening, we will:
Count your child's teeth and document the number of baby teeth and permanent teeth each child has
Evaluate for any crowding and alignment issues
Check for any existing fillings, new cavities or signs of tooth decay
Examine the temporomandibular joint (TMJ) and the jaw joint
Examine soft tissues (gums, cheeks, lips tongue and tonsils)
Overall, our pediatric dental exam evaluates your child's dental development and ensures it's on the right track. If your child is experiencing any tooth, jaw or gum pain, we'll assess those areas to see how we can fix the problem.
These exams happen as part of your child's routine dental checkup that should occur every six months. Along with an exam, your child will receive a teeth cleaning, fluoride, and dental x-rays as necessary.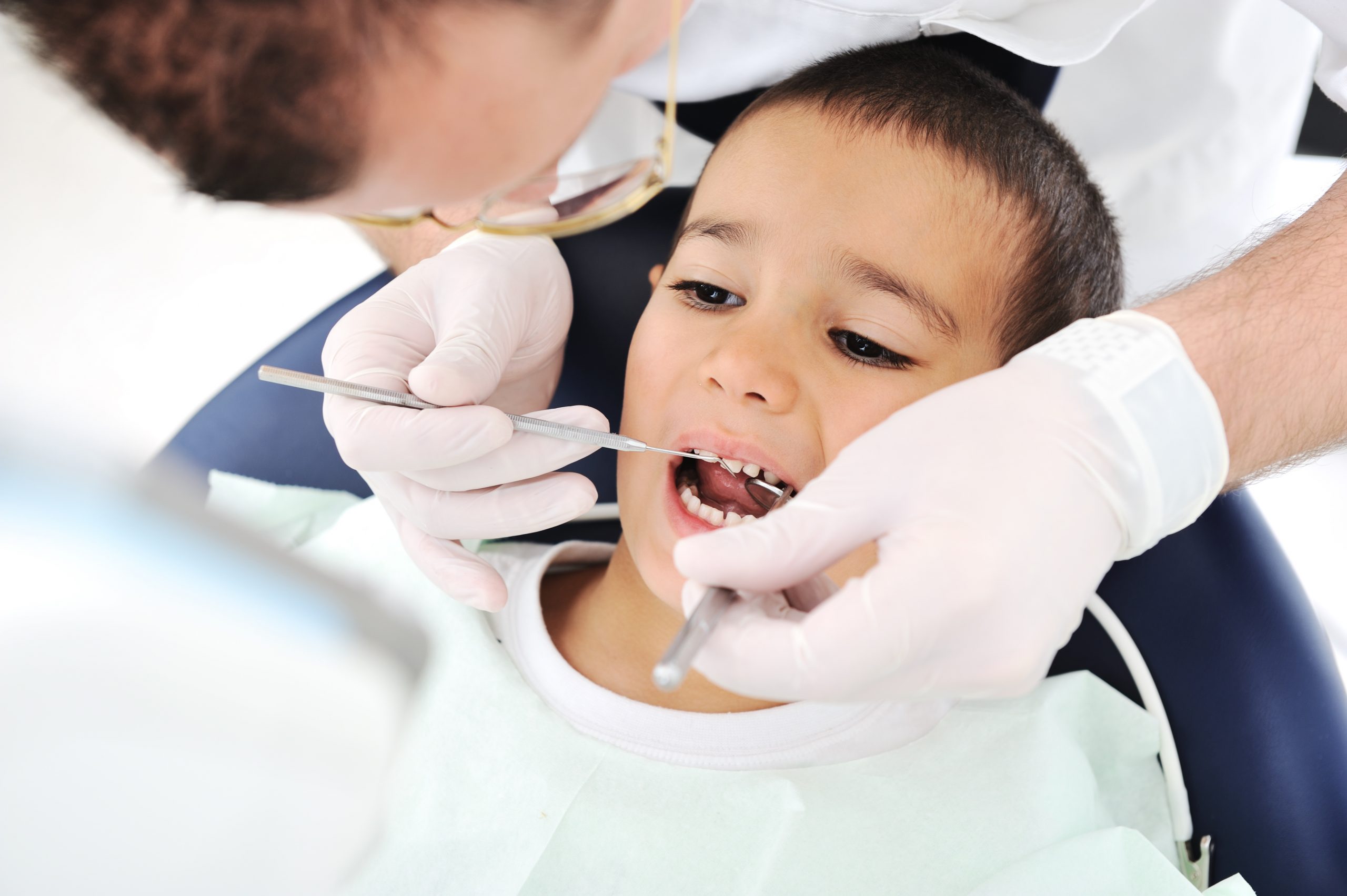 Does a Dental Exam Include a Cleaning?
We include dental exams in your child's biannual dental checkup to help you maintain the overall health of your child's teeth. Since the exam is a part of this process, we will perform a thorough dental cleaning, fluoride treatments, and any necessary dental x-rays.
Your child's teeth cleaning has various benefits, such as:
Removing tartar and any other build-up.
Flossing in between every tooth.
Using a spinning rubber polishing cup to remove stains.
In addition to these cleaning services, we will also guide your child through the best tooth-brushing practices, so they can maintain their teeth's overall health until their next checkup. A considerable amount of time is spent reviewing oral hygiene habits and giving tips to both kids and parents. These habits will benefit them into adulthood, as they will need to continue their thorough dental care to avoid potential dental issues.
At Fox Kids Dentistry & Orthodontics, we complete every step of your child's dental exam as thoroughly as possible. Our oral care ensures that your kid's teeth are in the best shape possible and sets them up for future dental success.
Are Digital X-Rays Taken During Dental Exams?
Digital dental x-rays can be beneficial because they provide detailed images of your child's teeth and additional information about their teeth and gums. Getting a closer look at specific areas enables us to understand how your kid's adult teeth are developing.
There are guidelines from both the American Dental Association (ADA) and the American Academy of Pediatric Dentistry (AAPD) that dictate when and how often to take kids' dental x-rays. Typically, we take digital x-rays once per year. Still, our team may perform them more frequently if your child is experiencing dental issues. Our staff uses dental x-rays to:
Locate hidden cavities: Cavities can form in places other than the top of teeth — sometimes, they're in hard-to-reach areas. If this is the case, we will use dental x-rays to identify cavities and solve the issue.
Evaluate development: X-rays allow us to see how the adult teeth are developing beneath the gumline. Doing so means we can understand how your child's teeth could shift and plan for those changes.
Check jaw alignment: Dental x-rays create detailed images of the jaw, helping us ensure your child's jaw is in alignment and prevent issues like temporomandibular joint disorder (TMJ).
Identify infections: If your child experiences tooth decay or dental pain of any kind, viewing digital dental images can help us identify the issue. From there, we'll develop a plan to proceed.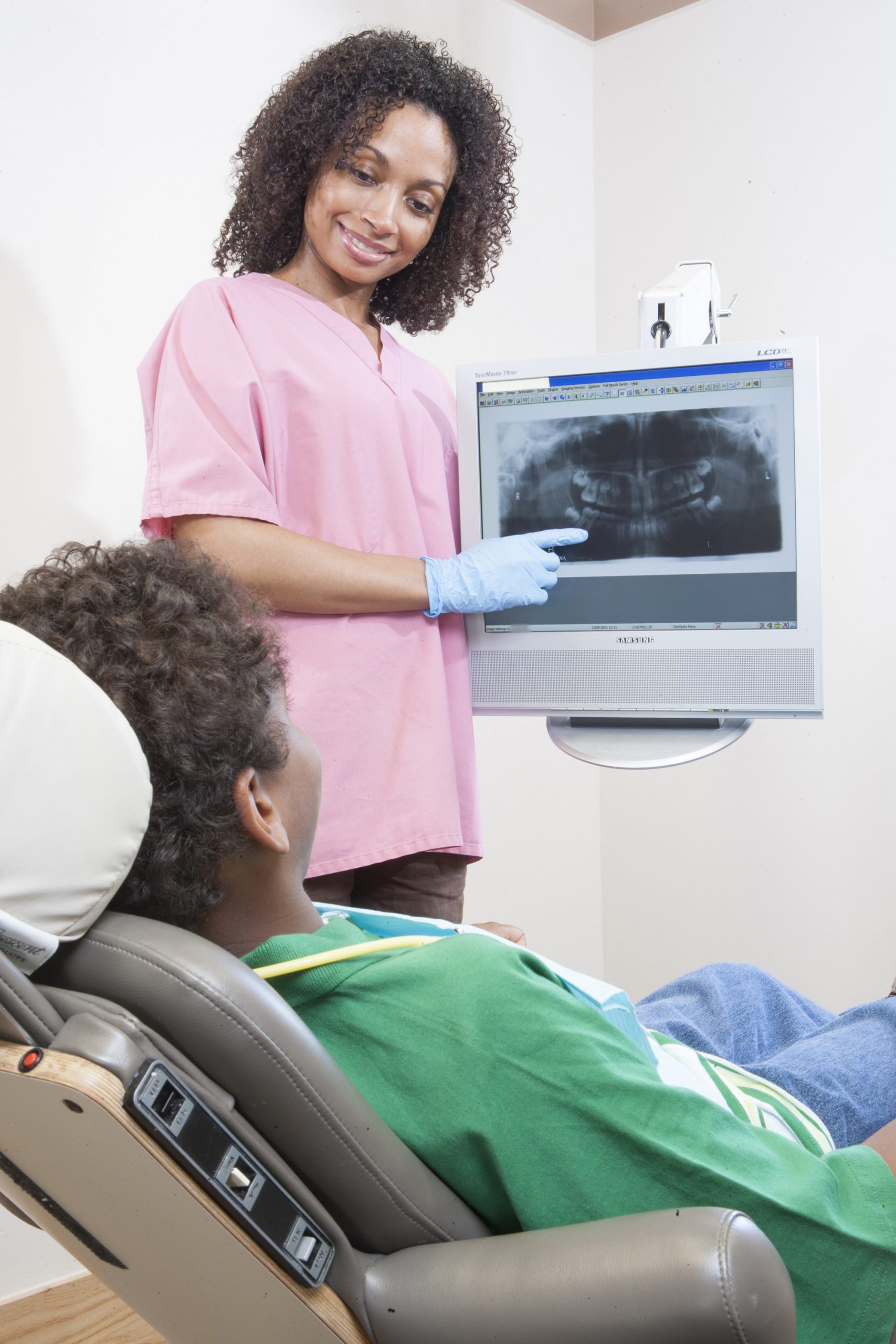 What Kind of Digital X-Rays Does Your Child Need?
We use various dental x-rays according to your child's age. These diagnostic options include:
Occlusal: These dental x-rays are ideal for children between the ages of 3 to 5. They display the development of the front baby teeth as well as the adult teeth developing below the surface.
Bitewing: We obtain these dental images every one or two years to analyze the teeth in the back of the mouth.
Panoramic: This type of dental x-ray is necessary every five years to evaluate the growth of permanent teeth.
Since we have the experience and knowledge to perform children's dental x-rays, you can feel confident that we will use the appropriate type to identify any dental issues.
The Importance of Dental Exams for Children
Dental exams are crucial to the health of your child's teeth. As dentists, we use exams to look for and prevent any problems with the growth and development of your child's teeth before they're unmanageable.
We help educate parents on dental developmental milestones and keep track of which teeth are in the mouth.
There are different factors such as cavities, gum disease, and a disposition toward braces that will change how a dentist treats your child's teeth.
Regular dental exams keep tartar and cavities under control and help with early intervention in orthodontics to make sure your child has the best possible experience with their teeth as they grow up.
We Know How to Work With Young Kids
A large part of our philosophy at Fox Kids Dentistry & Orthodontics is encouraging proper dental practices early in life to instill good habits into adulthood.
Many parents question whether their toddlers can handle a dental visit. While they may be young, their growing teeth will absolutely benefit from a regular dental checkup.
If you have a 2- or 3-year-old, it's essential to introduce them to a pediatric dentist to help them grow comfortable with the process.
We understand how valuable it is to make our patients feel safe, so we create an environment they can trust. At our dental office for kids, our goal is to lessen dentist anxiety in your child, introduce oral hygiene practices and help them take care of their teeth well into the future.
Schedule an Appointment for a Toddler Dental Exam in Portland, Oregon
At Fox Kids Dentistry, we help kids keep their teeth strong and happy as they grow. We continually work to streamline the dental exam process to make it a comfortable experience for our patients, so they develop a healthy relationship with dental checkups.
The dental checkup appointment is equally important for the parent, as it is the child, as parents can walk away from the appointment with a firm understanding of the state of their child's oral health.
If you're interested in scheduling an appointment with our pediatric dentist, Dr. Dana Fox, give us a call at 503-223-5039 or contact us online.